2022 Summer Music Benefit
Celebrating
The Pilgrim Chamber Players 25th Silver Anniversary Season
Welcoming
Steven Honigberg, Incoming Artistic Director
Recognizing
Carol Honigberg, Visionary Award
James Stone, Champion Award
Saturday, August 27, at 1:30 PM
Northmoor Country Club
820 Edgewood Road
Highland Park, IL
Reception | Lavish Buffet | Musical Program
Complimentary Valet Parking
For more information please call 847.433.0979 or email PilgrimChamber@gmail.com.
Program Information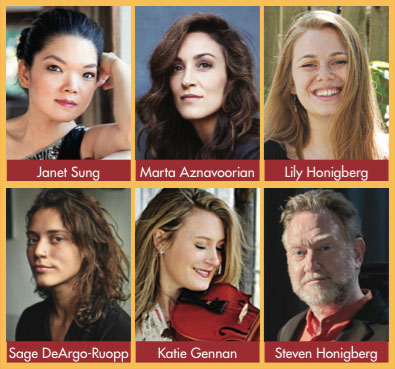 As the new artistic director of the Pilgrim Chamber Players, I look forward to meeting you at the August 27th Summer Music Benefit honoring my mother for her tireless effort in bringing beautiful music to North Shore audiences for 25 years.
The varied one hour concert features music by outstanding women composers from across generations, performed by violinist Janet Sung, pianist Marta Aznavoorian and myself, cellist Steven Honigberg: Romance (1893) by Amy Beach; Piano Trio (1916-1917) by Germaine Tailleferre; and Silver Dagger Piano Trio (2009) composed by Chicago-based Stacy Garrop. Marta and I will perform Mendelssohn's Song Without Words and Victor Herbert's Yesterthoughts. Soprano Sage DeAgro-Ruopp will be singing Lieder by Schubert. We will also present spirited Irish fiddle music by young performers Lily Honigberg and Katie Grennan.
I know you will enjoy this wonderful program.
Best wishes,
Steven Honigberg
Artistic Director
🙢
Program
Stacy Garrop, Silver Dagger for piano trio (2009)
Marta Aznavoorian, piano
Lily Honigberg, violin
Steven Honigberg, cello
Irish Folk Tunes
Lily Honigberg, violin
Katie Grennan, violin
Amy Beach, Romance, Op. 23
Janet Sung, violin
Marta Aznavoorian, piano
Lieder by Franz Schubert
"Auf dem Wasser zu singen", D. 774
"Der Tod und Das Mädchen", D. 531
"Die Forelle", D. 550
Sage DeAgro-Ruopp, soprano
Marta Aznavoorian, piano
Felix Mendelssohn, Song Without Words, Op. 109
Victor Herbert, Yesterthoughts, Op. 37
Steven Honigberg, cello
Marta Aznavoorian, piano
Germaine Tailleferre, Piano Trio
I. Allegro animato • II. Allegro vivace • III. Moderato • IV. Très animé
Janet Sung, violin
Steven Honigberg, cello
Marta Aznavoorian, piano
Tickets
Tickets may be purchased via Venmo @pilgrimchamber or check.
For checks, please make payable to Pilgrim Chamber Players and mail to:

Pilgrim Chamber Players
805 Moseley Road
Highland Park, IL 60035
$125
1 Summer Music Benefit ticket (raffle ticket not included)
$50
1 raffle ticket only (benefit ticket not included)
Receive one season ticket for the 2022-23 Pilgrim Chamber Players season (5 concerts) with the purchase of every two raffle tickets.
You need not attend the Benefit to win the Raffle.
Raffle
GRAND PRIZE
Two round trip plane tickets from Chicago to Paris, TGV train tickets to Angoulême, and a five-night stay at Domaine de Montboulard, a renovated 15th century farmhouse. A lovely bed & breakfast close to Cognac, Bordeaux, Limoges, Poitiers, the Perigord and Atlantic resorts. Available through 2023, dates TBD.
FIRST PRIZE
A three-night getaway to Asheville, North Carolina. Stay in a luxurious five-bedroom mountaintop home with stunning views, but close to town and restaurants. Available through 2023, dates TBD.
Two Orchestra level Lyric Opera tickets to Fiddler on the Roof on September 18, 2022.
Two Orchestra level Lyric Opera tickets to Verdi's Don Carlos, November 9-25, 2022.
Two Box Seats to the Chicago Symphony Orchestra performance of Bruckner's 8th Symphony on October 22, 2022.
Two tickets to the Joffrey Ballet's The Nutcracker, performances December 3-27.
Two tickets to a performance by the Chicago Philharmonic during the 2022-2023 season.
Renee Day Spa's "The Works". A flexible package includes facial, massage, manicure, and pedicure. Located at 233 E Erie just east of the Magnificent Mile in Chicago.
Instant Wine Cellar, a mixed case of wines from Sunset Foods.
Dinner for Four at Stefani Prime in Lincolnwood. Certificate for $250.
Dinner at Frank & Betsie's in Glencoe. Certificate for $50.
Lunch for Two at Neiman Marcus Northbrook Court accompanied by a cosmetic gift bag.
Mother of Pearl Necklace by Margo Morrison from the Neiman Marcus jewelry collection.
Steven and Carol Honigberg perform at home in Highland Park for up to 10 people.
Recital in your home by The Lincoln Trio - Desirée Ruhstrat, Marta Aznavoorian, and David Cunliffe.
Handmade Quilt, one of a kind. 50" x 50".
Audible one year gift subscription, including twelve credits.
Private Golf Lesson at Northmoor Country Club's Driving Range with Club Pro Barrie Augustine.
Private Golf Playing Lesson at Northmoor Country Club with Club Pro Barrie Augustine.
Two tickets to a 2023 Season Chicago Cubs Game, six rows from left field. Game TBD.
Two tickets to any show (excluding Saturday night and Sunday matinee) through the 2022-2023 season at the Steppenwolf Theatre in Chicago. Call Steppenwolf Audience Services in advance at 312-335-1650.
The Pilgrim Chamber Players
Gala Committee
Rhoda Pierce, Madeleine Plonsker, Susan Ruder
Janice Honigberg, Steven Honigberg
Board of Directors
Steven Honigberg, Artistic Director
Duffie Adelson
Joanne Bernstein
Susan Duman
Caroline Erbmann
Carol Honigberg
Janice Honigberg
Michael Knuth
Rhoda Pierce
Madeleine Plonsker
Susan Ruder
Steve Schaumberger
The Pilgrim Chamber Players present five varied chamber music concerts each season at the Highland Park Community House, 1991 Sheridan Road in Highland Park. They are dedicated to delighting and enlightening their audiences through superb performances and programming. The Pilgrim Chamber Players also continue to provide excellent outreach chamber music programs for young children and groups of senior citizens.
Included in their series for the past twelve years is their popular free concert, Stars of Tomorrow, performed by exceptionally talented, prize-winning young musicians 18 and under from the greater Chicago area.
With your support, next season's Stars of Tomorrow as well as four outstanding chamber music concerts will become a reality!