Honigberg Trio – 3 Generations
Sunday, January 15, 2017 at 3pm
Program
| | |
| --- | --- |
| Tchaikovsky | Nocturne for Violin and Piano |
| Tchaikovsky | Serenade Melancolique for Cello and Piano |
| Mozart | Piano Quartet in G Minor |
| Gliere | Duos for Violin and Cello, Op. 39 |
| Shostakovich | Piano Trio No. 2 in E Minor |
Concert information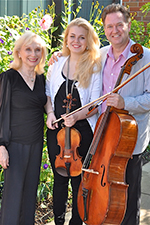 A musical family of three generations will present a varied, mostly Russian program. Included is music by Reinhold Gliere (1875-1956), a Russian composer who taught many Soviet composers, including Prokofiev and Khachaturian, at the Moscow Conservatory. His Duos for Violin and Cello are a collection of miniatures evoking 18th and 19th century musical forms. Tchaikovsky's beautifully melodic music is everyone's favorite as the Nocturne and Serenade Melancolique confirm. Shostakovich's Piano Trio in E Minor is one of the great Trios of our time, from its mysterious opening to the final danse macabre with its wild Klezmer-like themes. Great beauty and perfection is found in Mozart's Piano Quartet in C minor, a marvelous contrast with the rest of the program.
Dessert Reception gift of Catering by Michaels, Family of Companies.
Tickets
Adult - $20
Senior - $16
Student - $8
Performers
Honigberg Trio
Lily Honigberg, violin | Steven Honigberg, cello | Carol Honigberg, piano

with Rose Armbrust Griffin, viola
Lily Honigberg, violin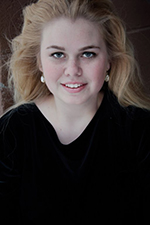 Lily Honigberg began playing the violin at the age of 4 in her hometown of Washington. DC where her father, Steven Honigberg, is a cellist in the National Symphony Orchestra and her mother, Jessica, is a piano teacher. Lily spent her high school years at the Interlochen Arts Academy in northern Michigan as a student of Paul Somer. She spent several summers at Meadowmount in upstate New York studying with violinist Gerardo Ribeiro. Upon graduating from Interlochen, Lily was accepted to the New England Conservatory in Boston where she is now a Junior and studies with Lucy Chapman.
Lily won the MASTA Music Conference Competition of Michigan in 2012 and was a finalist in the United States Army Orchestra Young Artist Competition in 2013. She won second place in the London Symphonette Concerto Competition in 2014. Also in 2014, as a chosen member of the National Youth Orchestra of the United States which was conducted by David Robertson, Lily toured the US with concerts that began in Walt Disney Hall in Los Angeles and ended in New York's Carnegie Hall.
Lily is deeply involved musically in both classical and improvisation departments at the New England Conservatory. She has studied improvisation with renowned artists such as Ran Blake, Hankus Netsky and Anthony Coleman. Traveling throughout Europe these past two summers, Lily has been playing/learning folk music from countries such as Ireland, England, Hungary and Austria. Lily has performed with Irish musicians such as Winifred Horan and Matin Hayes.
Lily's pan-celtic band Night Tree, recently won the New England Conservatory Honors Ensemble Award for the 2016-2017 year and will perform in NEC's Jordan Hall this coming March. The ensemble consists of two fiddles, cello, accordion, saxophone and percussion.
Steven Honigberg, cello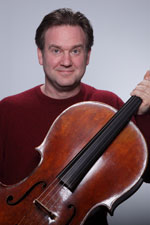 Steven Honigberg is a graduate of the Julliard School of Music where he studied with Leonard Rose and Channing Robbins. Other important cello teachers were Pierre Fournier and Karl Fruh. He is currently a member of the National Symphony Orchestra in Washington, D.C. and is also founder and member of the Potomac String Quartet. He has given recent cello recitals in Washington, DC on the Dumbarton Concert Series, at the Phillips Collection Series, at the National Gallery of Art, and recitals in New York and throughout the United States. In Chicago he has appeared on radio WFMT, at the Ravinia Festival, and as soloist with the Chicago Symphony Orchestra, Ars Viva Orchestra, Lake Forest Symphony and New Philharmonic Orchestra among others. He has appeared most recently as soloist with the National Symphony Orchestra in a performance at the Kennedy Center of Eric Wolfgang Korngold's Cello Concerto and he won rave reviews for the 1988 world premiere of David Ott's Concerto for Two Cellos conducted by Mistislav Rostropovich and the National Symphony Orchestra with many repeat performances on two NSO United States tours.
Steven was the Director of the Chamber Music Series at the U.S. Holocaust Memorial Museum in Washington, DC for ten years where he premiered a number of new works by such composers as Lukas Foss, Benjamin Lees, Robert Starer and David Diamond.
He participated in extensive recordings of concerts held at the museum, including four recordings of music from the music series and CDs of music by Erick Wolfgang Korngold and Ernst Toch. He has recorded extensively with the Potomac String Quartet, including the nine String Quartets of Quincy Porter and the eleven String Quartets of David Diamond which John von Rhein, music critic for the Chicago Tribune, chose as one of his top 20 CD choices for 2003. Steven Honigberg has also recorded the complete works of Beethoven for cello and piano, and the complete works of Chopin for cello and piano with his mother, pianist Carol Honigberg. From 1990-2009 Honigberg was chamber music director of the Edgar M. Bronfman series in Sun Valley, Idaho and principal cellist of the Sun Valley Summer Symphony where he was featured as soloist in more than 15 cello concerti. He has collaborated in chamber music with such musicians as violinist Hilary Hahn, and pianists Jean-Yves Thibaudet, Jon Nakamatsu, James Tocco and Shai Wosner. Steven Honigberg is a member of the new All Star Orchestra conducted by Gerard Schwartz, in concerts running on PBS stations throughout the United States.
Steven lives in Washington, DC with his wife Jessica and two daughters Lily and Clara. Also an author, Beckham Books in 2010 published his book Leonard Rose: America's Golden Age and Its First Cellist. During the 2014-2015 season he performed the Polish composer Panufnik's Cello Concerto with orchestra in Warsaw, Poland. In April 2015 he performed the Penderecki Concerto Grosso No. 1 for Three Celli with the National Symphony Orchestra in Washington DC, conducted by Christoph Eschenbach.
Steven is an Adjunct Professor of cello at Georgetown University in Washington, DC.
Carol Honigberg, piano
artistic director of the Pilgrim Chamber Players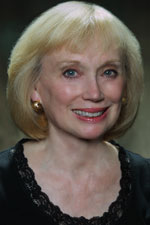 Carol Honigberg has appeared as soloist and as chamber musician throughout the United States and Europe. Recent performances with orchestra include Haydn's Concerto for Violin, Piano, and Strings, Beethoven's Triple Concerto, the Shostakovich Piano Concerto No. 2, and the Two-Piano Concerto by Poulenc. She gave her New York recital debut in Alice Tully Hall of Lincoln Center. She has appeared as soloist with the Grant Park Orchestra in Chicago and appears regularly on programs live on radio WFMT. She has recently participated in summer festivals in Ceret, France, and Sun Valley, Idaho, has performed on the Chopin Festival in Washington, DC, and participated in the Chamber Music series from the US Holocaust Memorial Museum in Washington, DC. She recently gave a duo recital with violinist Judith Aller at the Los Angeles County Museum of Art which was broadcast live on radio.
Carol Honigberg has recorded the Barber Piano Concerto and Piano Sonata for Musical Heritage Society, the Rhapsody in Blue in the solo piano version for Pavane Records in Belgium, the Beethoven Sonatas and Variations for cello and piano, and Chopin's music for cello and piano with cellist Steven Honigberg on the Albany label. She also performs on the series "Darkness & Light," music from the US Holocaust Memorial Museum. She recently recorded for Albany Records a selection of chamber music by Donald Draganski for winds and piano, performed by the Pilgrim Chamber Players, of which she is Artistic Director.
She is a former faculty member of Roosevelt University in Chicago and presently teaches at the Music Institute of Chicago, Lake Forest Campus. She received her Masters of Music degree from Northwestern University. Her teachers have included Rudolph Ganz and Gui Mombeaerts. She also studied with Marguerite Long in France.
Carol Honigberg received the 2009 City of Highland Park Mayor's Award for the Arts for her role as Artistic Director of the Pilgrim Chamber Players.
Rose Armbrust Griffin, viola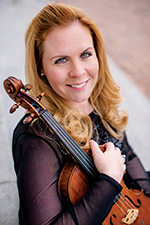 Violist Rose Armbrust Griffin received her Bachelor of Music from The Juilliard School, Artist Diploma from The Curtis Institute of Music and Masters of Music from Indiana University. During her time at The Curtis Institute of Music she held the James and Betty Materese Annual Fellowship. Most notably, Rose was awarded a Performers Certificate at the conclusion of her Masters for "recognition of her outstanding musical performance". Her teachers include Heidi Castleman, Hsin-Yung Huang, Roberto Diaz, Michael Tree and Atar Arad.
Rose has performed as soloist with the Bogota Symphony Orchestra, Woodstock's Mozart Festival Orchestra, The Curtis Chamber Orchestra, Midwest Young Artists and the Indiana University's Chamber Orchestra. Composer Johnathan Graybill's "Viola Concerto", was written for and premiered by Rose alongside the Ball State University Orchestra. Rose was awarded first prize in the Chicago Viola Society and Rembrandt Chamber Players Competitions and was a prizewinner at The Fischoff Chamber Music Competition.
As an active chamber musician, Rose has collaborated with renowned artists such as Itzhak Perlman, Joshua Bell, Pamela Frank, Vadim Gluzman, Peter Wiley and the Amernet String Quartet. Her chamber music performances include concerts at The Kennedy Center, Avery Fischer Hall, Music from Angelfire, Zankel Hall, Ravinia's Steans Institute and The Musica Bella Concert Series. Rose also served as the violist of The Kuttner Quartet, the quartet in residence at Indiana University. She has been a guest artist at The North Shore Music and the Kingston Chamber Music Festivals. Currently, she is an active member of the International Chamber Artists and The Jupiter Chamber Players.
Rose has served as principal violist of The Haddonfield Symphony and as guest principal/assistant principal of the Illinois Symphony Orchestra. Other orchestral performances include Firebird Chamber Orchestra, Woodstock Mozart Festival and the Lyrique-en-Mer Festival in Le Palais, France. Rose is currently a member of The Ars Viva Orchestra and The Lake Forest Symphony.
Rose's passion is music education. During her time at Indiana University, she was awarded the merit-based Viola Associate Instructorship. She has been a guest lecturer at Fort Hays University (KS), Northern Illinois University and Washington and Lee University (VA). She is currently the viola professor at Wheaton College where serves as the Chamber Music Coordinator and teaches an Introduction to Music History Course. Because of her love of teaching and chamber music, Rose fills her weekends with coaching chamber music at Midwest Young Artists.
Rose has recorded for Albany Records. She plays on a 1989 Marten Cornelissen that was borrowed during her time at Curtis and subsequently purchased after she realized she couldn't "live without it".