Spring Fever
Sunday, June 4, 2017 at 3pm
Program
| | |
| --- | --- |
| Dan Visconti | Ramshackle Songs for String Quartet (2009) |
| Gaspar Cassadó | Trio for Piano, Violin, and Cello |
| Brahms | String Quartet in C Minor, Op. 51 No. 1 |
Concert information
Meet the outstanding Chicago composer Dan Visconti as he introduces his special vision of Americana, Ramshackle Songs, performed by the Kontras Quartet. Visconti sets the stage in this work for a bittersweet journey of nostalgia, blending melodic fragments, playful effects and dizzying rhythmic intricacies. The powerful and virtuosic Piano Trio by the Spanish composer and cellist Gaspar Cassadó follows. Brahm's magnificent C Minor String Quartet, a masterwork of great drama and beauty, draws to an end our 20th Year Celebration.
Concert sponsored in part by the Northern Trust Bank.
Tickets
Adult - $20
Senior - $16
Student - $8
Performers
The Kontras Quartet
Dimitri Pogorelov, violin | Francois Henkins, violin
Ben Weber, viola | Jean Hatmaker, cello

with Carol Honigberg, piano
and Dan Visconti, composer
The Kontras Quartet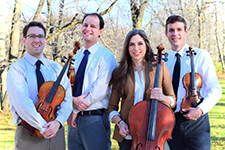 Admired for their "superlative artistry" (CVNC Arts Journal), the Kontras Quartet has established an international following for their vibrant and nuanced performances. The "superb Chicago-based ensemble" (Gramophone Magazine) has been described as "a tightly crafted and beautiful instrument" (CVNC Arts Journal) and has been lauded for their "crisp precision" (Palm Beach Daily News) and "enjoyable musical personality" (Fanfare Magazine). Kontras means contrasts in the Afrikaans language - fitting for a string ensemble whose colorful repertoire spans centuries, genres, and continents.
The Kontras Quartet records for MSR Classics and recently released two critically acclaimed albums. The first, Origins, features new and lesser-known works from the quartet's home countries, including the world premiere recording of Dan Visconti's Ramshackle Songs. The recording was commended by Gramophone Magazine for the quartet's "scrupulous shading and control". The second, Lucid Dreamer, features a septet that Kontras commissioned in 2013 with a generous Chamber Music America-awarded grant. The work treads the line between classical music and American folk and invigorates Kontras' ongoing collaboration with the esteemed Kruger Brothers trio.
The Kontras Quartet's recent and upcoming performances include multiple broadcasts on classical radio stations nationwide (including Performance Today and Concierto on NPR); concerts at Chicago's Symphony Center, the Farnsworth House, and the Juilliard School; television appearances on NBC and PBS; regular appearances on concert series throughout the Midwest and Southeast; and sold out performances at the Telluride, IBMA and MerleFest festivals.
Kontras enjoys educational work of all kinds, and has been the Professional Quartet in Residence at Western Michigan University for two years. In addition to their concert schedule, the quartet will hold teaching residencies at Elmhurst College and Appalachian State University in 2016. They will also continue their work in the Chicago Public Schools with the support of a grant from the Boeing Company. Outside of the Chicago area, Kontras has made a significant educational impact in North Carolina, bringing over 200 innovative and interactive outreach programs to 40,000 students.
Formed while the group's members were string principals in the Civic Orchestra of Chicago, the Kontras Quartet began pursuing a professional career in 2009. Kontras enjoyed immediate recognition, holding their own against seasoned string quartets from around the country to win a four-year chamber music residency with the Western Piedmont Symphony in North Carolina, a full-time position established through Chamber Music America's Residency Partnership Program. The quartet has received continued training with the Vermeer Quartet and Juilliard String Quartet.
Their website can be found at www.kontrasquartet.com.
Carol Honigberg, piano
artistic director of the Pilgrim Chamber Players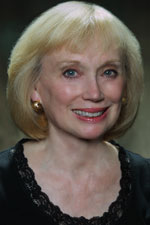 Carol Honigberg has appeared as soloist and as chamber musician throughout the United States and Europe. Recent performances with orchestra include Haydn's Concerto for Violin, Piano, and Strings, Beethoven's Triple Concerto, the Shostakovich Piano Concerto No. 2, and the Two-Piano Concerto by Poulenc. She gave her New York recital debut in Alice Tully Hall of Lincoln Center. She has appeared as soloist with the Grant Park Orchestra in Chicago and appears regularly on programs live on radio WFMT. She has recently participated in summer festivals in Ceret, France, and Sun Valley, Idaho, has performed on the Chopin Festival in Washington, DC, and participated in the Chamber Music series from the US Holocaust Memorial Museum in Washington, DC. She recently gave a duo recital with violinist Judith Aller at the Los Angeles County Museum of Art which was broadcast live on radio.
Carol Honigberg has recorded the Barber Piano Concerto and Piano Sonata for Musical Heritage Society, the Rhapsody in Blue in the solo piano version for Pavane Records in Belgium, the Beethoven Sonatas and Variations for cello and piano, and Chopin's music for cello and piano with cellist Steven Honigberg on the Albany label. She also performs on the series "Darkness & Light," music from the US Holocaust Memorial Museum. She recently recorded for Albany Records a selection of chamber music by Donald Draganski for winds and piano, performed by the Pilgrim Chamber Players, of which she is Artistic Director.
She is a former faculty member of Roosevelt University in Chicago and presently teaches at the Music Institute of Chicago, Lake Forest Campus. She received her Masters of Music degree from Northwestern University. Her teachers have included Rudolph Ganz and Gui Mombeaerts. She also studied with Marguerite Long in France.
Carol Honigberg received the 2009 City of Highland Park Mayor's Award for the Arts for her role as Artistic Director of the Pilgrim Chamber Players.
Dan Visconti, composer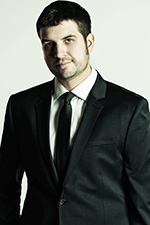 Active as a composer, concert curator, and writer on music, Dan Visconti is updating the role of the classical musician for the 21st century as he creates new projects in collaboration with the community. For his ongoing initiatives to address social issues through music by reimagining the arts as a form of cultural and civic service, Visconti was awarded a 2014 TED Fellowship and delivered a TED talk at the conference's thirtieth anniversary.
Visconti's musical compositions are rooted in the improvisational energy and maverick spirit of rock, folk music, and other vernacular performance traditions—elements that tend to collide in unexpected ways with Visconti's classical training, resulting in a growing body of work the Plain Dealer describes as "both mature and youthful, bristling with exhilarating musical ideas and a powerfully crafted lyricism."
Commission credits include works written for the Kronos Quartet, Branford Marsalis, eighth blackbird, Opera Philadelphia, the JACK Quartet, Alarm Will Sound, Da Capo Chamber Players, Scharoun Ensemble of the Berlin Philharmonic, Silk Road Project percussionist Shane Shanahan, guitarist Jason Vieaux, soprano Lucy Shelton, and many others. His music has been performed at venues including Carnegie Hall, Alice Tully Hall, the Kennedy Center for the Performing Arts, Los Angeles's Disney Hall, London's Barbican Theatre, and Sydney Opera House. He has also held composer residencies including those with the California Symphony, Arkansas Symphony, and Metropolitan Opera.
Visconti's music has been recognized with the Rome Prize, Berlin Prize, and awards from the Koussevitzky Foundation at the Library of Congress, Fromm Foundation, Naumburg Foundation, and the American Academy of Arts and Letters. He is a contributing writer for the Huffington Post and has recently had speaking engagements at the Clinton School for Public Service, the National Archive, and the Rock and Roll Hall of Fame.
Visconti currently serves as Director of Artistic Programming at Chicago's Fifth House Ensemble and works with young musicians at the ensemble's annual Fresh Inc Festival on cultivating musical careers in line with their own unique vision and values. He is also Artistic Advisor at Astral Artists, where he works to develop the next generation of classical music leaders.
His website can be found at www.danvisconti.com.