Baroque Splendors
Sunday, June 3, 2018 at 1pm
Program
| | |
| --- | --- |
| J.S. Bach | Brandenburg Concerto No. 5 for Harpsichord with Flute and Strings |
| J.S. Bach | Trio Sonata in G Major for Flute, Violin, Harpsichord, and Cello |
| Rameau | Solo harpsichord works |
| W. Leigh | Concertino for Harpsichord and String Quintet (1934) |
Concert information
The Pilgrim Chamber Players is presenting a concert of mostly Baroque music for the first time. We are very excited to present the artistry of Jory Vinikour, harpsichordist along with wonderful musicians who are Baroque specialists performing Bach's great Brandenburg Concerto No. 5 and a Trio Sonata by Bach. Jory Vinikour will present a mini recital of harpsichord solos by the French composer Jean Philippe Rameau. We are also including in this program a lovely 20th century work for harpsichord and strings by the English composer Walter Leigh whose career and life was cut short in World War II.
Please note the concert time is 1pm.
Concert sponsored in part by the Northern Trust Bank.
Tickets
Adult - $20
Senior - $16
Student - $8
Performers
Featuring Jory Vinikour, harpsichord
Leela Breithaupt, flute | Allison Nyquist, violin
Martin Davids, violin | Elizabeth Holzman Hagen, viola
Anna Steinhoff, cello | Jerry Fuller, bass
Jory Vinikour, harpsichord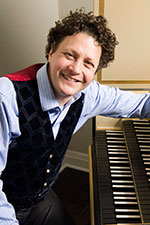 Jory Vinikour is recognized as one of the outstanding harpsichordists of his generation. Born in Chicago, he came to Paris on a Fulbright scholarship to study with Huguette Dreyfus and Kenneth Gilbert. First Prizes in the International Harpsichord Competitions of Warsaw (1993) and the Prague Spring Festival (1994) brought him to the public's attention, and he has since appeared in festivals and concert series, and as soloist with major orchestras, throughout much of the world. He has appeared as conductor/harpsichordist with the Juilliard415 Baroque orchestra at Carnegie Hall, as well as with the Los Angeles Chamber Orchestra, Hong Kong Philharmonic, Korea Chamber Orchestra, etc. He has collaborated with many of the most prominent singers of today, notably Swedish mezzo-soprano Anne Sofie von Otter, Rolando Villazon. His solo recordings have been widely praised in the international press. His recording of the complete works of Jean-Philippe Rameau (Sono Luminus, 2012) was nominated for a Grammy in the field of Best Classical Solo Intrumental Recording.
Photograph by Nuccio di Nuzzo
Leela Breithaupt, flute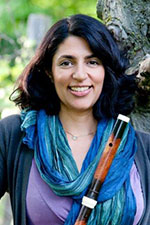 Flutist Leela Breithaupt performs and teaches both Baroque flute (traverso) and modern flute and has appeared in the United States, Europe and Asia in solo and chamber settings. Focusing on period-specific approaches to playing music from seventeenth century French Baroque to 21st century avant garde, she has been lauded for her "great dexterity and extraordinary talent" (Norddeutsche Rundschau). Ms. Breithaupt is a founding member and director of Les Ordinaires baroque trio, whose debut album, Inner Chambers: Royal Court Music of Louis XIV, was released on the Naxos label in January, 2018. She is also Interim Executive Director of Indy Baroque Music, Inc. Her discography includes All Hail the Sun King (Indie Barock) with the Indianapolis Baroque Orchestra, The Vanishing Nordic Chorale (Musik Ekklesia), and Beethoven Tänze & Menuette (Koch International) with the Bavarian Chamber Philharmonic. She works as an active liaison between modern flute and traverso through national Go Baroque masterclasses on Historically Informed Performance for modern flute. Since 2014, she has been an author for Flute Talk magazine and currently serves as a Consulting Editor.
Ms. Breithaupt is the recipient of a 2017 Creative Renewal Arts Fellowship from the Arts Council of Indianapolis and a 2016 Individual Artist Program grant from the Indiana Arts Commission. She is a member of the Indianapolis Baroque Orchestra, Bourbon Baroque, and Studio in Bloom and performs with New York Baroque, North Carolina Baroque Orchestra, and the Indianapolis Symphony Orchestra.
Allison Nyquist, violin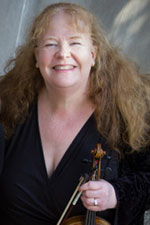 Allison Nyquist is Artistic Director of Nashville's Music City Baroque orchestra and the baroque violin professor at Vanderbilt University's Blair School of Music. She also serves as concertmaster of the Indianapolis Baroque Orchestra and is a member of Ensemble Voltaire, The Vivaldi Project (with whom she recently recorded "Discovering the Classical String Trio" for MSR Classics), the Haymarket Opera Company and Third Coast Baroque. A former student of Stanley Ritchie at Indiana University, she will be one of several substitute professors there this spring while he is on leave.
Martin Davids, violin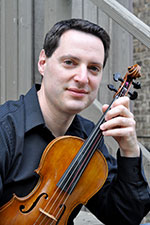 Highly acclaimed violinist Martin Davids founded and directs the Callipygian Players, Chicago's premier Baroque chamber music ensemble. "A devoted Baroque artist and performer of considerable note" (Jack Neal, KUNR-FM), Mr. Davids is concertmaster of Brandywine Baroque (DE), Chicago Galant Consort, Bach Collegium of Ft. Wayne, Janus Ensemble, Reno Baroque Ensemble (NV), and the Bach Institute Players at Valparaiso University. He is principal second violin with the Haymarket Opera Company, and Baroque Orchestra of Colorado. In Chicago, he also plays with Ars Antigua and Music of the Baroque. In the summer, he performs at the Staunton Music Festival (VA) and Green Lake Festival of Music (WI). Other ensembles he has played with include Indianapolis Baroque Orchestra, Ensemble Galilei, Chicago Opera Theater, Central City Opera, Aradia, Toronto Consort, and numerous others across Canada and the U.S. Mr. Davids earned the prestigious Performer Diploma in Baroque violin from Indiana University where he studied with Stanley Ritchie. He also received a Masters degree from the University of Michigan.
Mr. Davids published a volume of arrangements for two violins of J. S. Bach's solo violin fugues in early 2016. Called Bachfor2, it is the first arrangement of its kind. In addition, he is a third generation disciple of the YiZung Yue school of internal martial arts.
His recordings on the Musica Omnia, Albany, Plectra, Cedille, and Sonabilis labels have been described as "simply gorgeous" (American Record Guide, Jan/Feb, 2011). In January of 2017, he celebrated the release of his latest CD Les Deux suites de airs d'opera… with concerts in Paris and Naples. His recent CD, Michael Christian Festing, Violin sonatas, "...revels in the sound of his instrument, with assured and very articulate bowing, masterful phrasing..." (classicstoday.com, 2015) came out in December, 2014. Also recently released, his world premier 12 Sonatas for violin and continuo by Henry Eccles - "both performance and recording are uniformly excellent" (Early Music America, Spring, 2014) is available. He is a founding member of the award winning electric Baroque ensemble Discontinuo and is in demand as an electric violinist. He has played on many world premieres of new works including David Borden's K 216.01 for electric violin and synthesizer ensemble. A recognized expert in historical performance, Mr. Davids often gives masterclasses in performance practice and improvisation at many schools and universities including Northwestern, Cornell, and the University of Michigan. He performs on a Baroque violin by Ferdinando Alberti from 1750 with Baroque bows by Canadian master bow makers Michelle Speller and Stephen Marvin. A resident of Skokie, IL, he lives with his wife Julia, and children Judith and Solomon.
Elizabeth Holzman Hagen, viola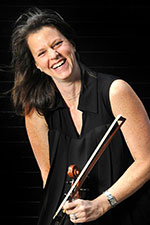 Elizabeth Holzman Hagen enjoys an active performance career on both modern and Baroque violas. She is principal violist of Music of the Baroque, Baroque Band, the Haymarket Opera Company and the Callipygian Players. She is a member of the Chicago Philharmonic, The Ravinia Festival Orchestra and The Metropolis Symphony. Other appearances have been with Lyric Opera Chicago, The Rembrandt Chamber Players and The Newberry Consort. From 1995-2006, she was a member of the Cleveland Baroque Orchestra, Apollo's Fire. Elizabeth is an active participant in Chicago's freelance music scene.
Anna Steinhoff, cello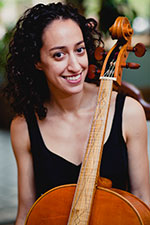 Anna Steinhoff, cellist, is a member of Wayward Sister, Second City Musick and the Haymarket Opera Company. She was the principal cellist of Chicago's Baroque Orchestra, Baroque Band, and during the summers has the pleasure of being a part of the Staunton Music Festival and the Princeton Festival Baroque Orchestra. In addition to classical music, Anna has performed or recorded with an array of rock bands such as Saturday Looks Good To Me, Mysteries of Life and children's artist Justin Roberts. Anna studied at the Oberlin Conservatory and Northwestern University baroque cello with and has studied Jaap ter Linden.
Jerry Fuller, bass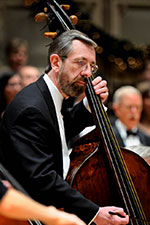 Jerry Fuller began studying the double bass at age 16 and was invited to join the Lyric Opera of Chicago orchestra three years later. Within two years he was promoted to first desk of the double bass section in addition to performing with the Santa Fe Opera. Mr Fuller has also served as solo double bass of The Musikkollegium Winterthur Switzerland. While in Europe, Mr. Fuller became interested in historically-informed performance practice and has achieved international recognition for his work with period instruments. A Chicago Artists Abroad grant recipient, Mr. Fuller's performances in London, Rome, Geneva and Edinburgh have been broadcast worldwide. In addition, Mr. Fuller has performed at the Ravinia and the Aspen Music Festivals and both the Boston and Berkeley Early Music Festivals.
His recordings on the Musical Arts Society, Cedille and Centaur labels have been hailed by both critics and colleagues. Mr. Fuller also writes on period instruments and performance practice for The Strad, Double Bassist, and Bass World magazines, and has served on the editorial board of the Online Journal of Bass Research.
Mr. Fuller served as an officer of the Board of Directors of the International Society of Bassists 1990-1996 and has appeared as a guest artist with the American Bach Soloists of San Francisco, the Handel and Haydn Society of Boston and the Newberry Consort of Chicago.
He is principal double bassist of the Haymarket Opera, Callipygian Players and The Bach Institute at Valparaiso University. In addition he is Director of both ArsAntiguaPresents.com and the Midwest Young Artists Early Music Program for which he was awarded the Early Music America Outreach Award for Excellence in Early Music Education. Jerry recently received a Special Recognition Award for Historically Informed Performance from the International Society of Bassists. This award is given once every two years to a bassist who has demonstrated and achieved the highest level of excellence in historically informed performance.