Winter Passions
Sunday, March 17, 2019 at 3pm
Program
| | |
| --- | --- |
| Beethoven | Violin Sonata, Op.30 No. 3 in G Major |
| Chopin | Nocturne Op. 9 for Cello and Piano |
| Chopin | Polonaise Brillante Op. 3 for Cello and Piano |
| John Williams | Violin Cadenza from Fiddler on the Roof |
| Mendelssohn | String Quartet, Op. 13 No. 2 in A Minor |
Concert information
You will love the variety of this program and its surprises. From the beauty of Beethoven's Violin Sonata to the sensuousness of Chopin's cello music to the astonishment of John William's Violin Cadenza, and finishing with a fabulous String Quartet of Mendelssohn's... what a great afternoon of music!
Dessert Reception gift of Sunset Foods of Highland Park.
Tickets
Adult - $20
Senior - $16
Student - $8
Performers
David Taylor, violin | Steven Honigberg, cello
Cornelius Chiu, violin | Weijing Wang, viola
and Carol Honigberg, piano

David Taylor, violin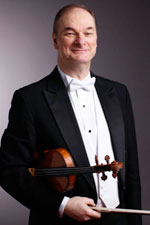 David Taylor joined the Chicago Symphony Orchestra as Assistant-Concertmaster in 1979. Born in Canton, Ohio, he first studied violin with his father beginning at the age of four and later continued his studies with Margaret Randall and Rafael Druian at the Cleveland Institute of Music. He later studied with Ivan Galamian and Dorothy DeLay at the Juilliard School, where he received both bachelor and master's degrees. He became a member of the Cleveland Orchestra in 1974. With the Chicago Symphony he has made numerous solo appearances, including performances with Sir Georg Solti. He also has served as Acting-Concertmaster of the Saint Louis Symphony and was the Concertmaster of the Milwaukee Symphony. He has also served as temporary Concertmaster of the Seattle and Dallas Symphonies. As a lover of chamber music he often performs in recitals and solo performances in the Chicagoland area, at Ravinia and on WFMT. He is a also a frequent soloist with the regions local orchestras. He teaches privately, at the Moody Bible Institute and at Roosevelt University. A frequent coach of orchestral violinists he has students in orchestras across the United States and Japan. David lives in downtown Chicago and is married to Michelle Wynton, also a violinist.
Steven Honigberg, cello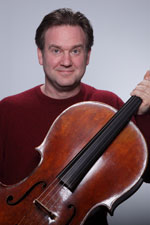 Steven Honigberg is a graduate of the Julliard School of Music where he studied with Leonard Rose and Channing Robbins. Other important cello teachers were Pierre Fournier and Karl Fruh. He is currently a member of the National Symphony Orchestra in Washington, D.C. and is also founder and member of the Potomac String Quartet. He has given recent cello recitals in Washington, DC on the Dumbarton Concert Series, at the Phillips Collection Series, at the National Gallery of Art, and recitals in New York and throughout the United States. In Chicago he has appeared on radio WFMT, at the Ravinia Festival, and as soloist with the Chicago Symphony Orchestra, Ars Viva Orchestra, Lake Forest Symphony and New Philharmonic Orchestra among others. He has appeared most recently as soloist with the National Symphony Orchestra in a performance at the Kennedy Center of Eric Wolfgang Korngold's Cello Concerto and he won rave reviews for the 1988 world premiere of David Ott's Concerto for Two Cellos conducted by Mistislav Rostropovich and the National Symphony Orchestra with many repeat performances on two NSO United States tours.
Steven was the Director of the Chamber Music Series at the U.S. Holocaust Memorial Museum in Washington, DC for ten years where he premiered a number of new works by such composers as Lukas Foss, Benjamin Lees, Robert Starer and David Diamond.
He participated in extensive recordings of concerts held at the museum, including four recordings of music from the music series and CDs of music by Erick Wolfgang Korngold and Ernst Toch. He has recorded extensively with the Potomac String Quartet, including the nine String Quartets of Quincy Porter and the eleven String Quartets of David Diamond which John von Rhein, music critic for the Chicago Tribune, chose as one of his top 20 CD choices for 2003. Steven Honigberg has also recorded the complete works of Beethoven for cello and piano, and the complete works of Chopin for cello and piano with his mother, pianist Carol Honigberg. From 1990-2009 Honigberg was chamber music director of the Edgar M. Bronfman series in Sun Valley, Idaho and principal cellist of the Sun Valley Summer Symphony where he was featured as soloist in more than 15 cello concerti. He has collaborated in chamber music with such musicians as violinist Hilary Hahn, and pianists Jean-Yves Thibaudet, Jon Nakamatsu, James Tocco and Shai Wosner. Steven Honigberg is a member of the new All Star Orchestra conducted by Gerard Schwartz, in concerts running on PBS stations throughout the United States.
Steven lives in Washington, DC with his wife Jessica and two daughters Lily and Clara. Also an author, Beckham Books in 2010 published his book Leonard Rose: America's Golden Age and Its First Cellist. During the 2014-2015 season he performed the Polish composer Panufnik's Cello Concerto with orchestra in Warsaw, Poland. In April 2015 he performed the Penderecki Concerto Grosso No. 1 for Three Celli with the National Symphony Orchestra in Washington DC, conducted by Christoph Eschenbach.
Steven is an Adjunct Professor of cello at Georgetown University in Washington, DC.
Cornelius Chiu, violin
Violinist Cornelius Chiu enjoys a versatile career as a chamber and orchestral musician as well as a soloist. He is a protégé of the famed pedagogue Josef Gingold and graduated with a Bachelor's and Master's degree in music performance with highest distinction from the Indiana University Jacobs School of Music. While at Indiana he was awarded a performer's certificate as well as a fellowship. His other teachers while at Indiana were Franco Gulli, Yuval Yaron, and Nelli Shkolnikova. He received noteworthy distinction from Isaac Stern in master class and studied chamber music with Janos Starker, Rostislav Dubinsky, Miriam Fried, Menahem Pressler, and Gyorgy Sebok. He served as concertmaster of the Indiana University Symphony Orchestra and won the school violin competition resulting in his performance with them. Cornelius was a winner of the Indianapolis Young Musicians Competition, The National Arts and Letters Competition, The Baltimore Music Club Competition, The Irving Klein International String Competition as well as a finalist in the Julius Stulberg Competition, The Seventeen Magazine General Motors National Competition, and semifinalist in the UNISA International competition. He has performed as soloist with the Indianapolis Symphony Orchestra, the Washington Chamber Symphony Orchestra and the Northwest Symphony Orchestra, and debuted at the Kennedy Center in 1993. Prior to 1996, when he was invited by Daniel Barenboim to join as a first violinist in the Chicago Symphony Orchestra, Cornelius had won positions in both the Dallas symphony and the Chicago Lyric Opera. In 2007 and 2008 he was invited by Myung Whun Chung to participate in the Asian Philharmonic Orchestra, a cultural exchange of Asian musicians from around the world. An avid chamber musician Cornelius' interest in this area began after winning the Kuttner Quartet Competition at Indiana. He has performed at the Recontres Musicales and St. Nazaire Festivals in France, the Ensemble Villa Musica in Germany, and the Ravinia Festival. He performs annually with his CSO colleagues in the Chicago Symphony Chamber Music Series and is a founding member of the Meridian String Quartet. With his wife Inah, he forms the Corinah Duo which has performed and been broadcast nationally. He also has recorded on the Cedille label and frequently collaborates with his brother Frederic Chiu, a successful concert pianist and recording artist. A dedicated teacher Cornelius has taught a private studio for over twenty five years and has been on the faculty of the Music Institute of Chicago and the Wheaton Conservatory of Music, and most recently was invited to teach at the David Kim Orchestral Institute at Cairn University. He currently is a faculty member at the Chicago College of Performing Arts at Roosevelt University.
Weijing Wang, viola
Violist Weijing Wang has joined the Chicago Symphony Orchestra appointed by Music director Riccardo Muti in March 2012. Prior to joining the CSO, she served as acting associate principal in the St. Louis Symphony orchestra from 2009-12. From 2007-09, she served as principal of the Phoenix Symphony, as the youngest principal player ever in the history of the orchestra.
A native of Shanghai, China, Wang has received numerous awards from competitions including the Robertson Awards in the Primrose International Viola Competition, second prize in the Chicago National Viola Competition, Gold Medal in the Shenyang National Viola Competition, third prize in the Beijing National Viola Competition.
As an active and passionate chamber musician, Wang was the founding member of the Chicago Peridot String Quartet, which had numerous concert tours in cities of America and Europe. She has also collaborated with artists such as the members of the Vermeer String Quartet. As a soloist, Wang has performed with the St. Louis Symphony Orchestra, the Phoenix Youth Symphony, Shanghai Youth Symphony Orchestra, among others.
Wang began her studies of the violin at the age of 4. At the age of 17, she started to play the viola. in 2004, she was originally admitted to the prestigious Shanghai Conservatory of Music without any entrance auditions due to her talent. Wang studied with Mr. Li-Kuo Chang, at the Chicago College of Performing Arts after she came to United States in 2004.
Carol Honigberg, piano
artistic director of the Pilgrim Chamber Players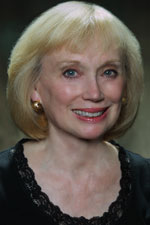 Carol Honigberg has appeared as soloist and as chamber musician throughout the United States and Europe. Recent performances with orchestra include Haydn's Concerto for Violin, Piano, and Strings, Beethoven's Triple Concerto, the Shostakovich Piano Concerto No. 2, and the Two-Piano Concerto by Poulenc. She gave her New York recital debut in Alice Tully Hall of Lincoln Center. She has appeared as soloist with the Grant Park Orchestra in Chicago and appears regularly on programs live on radio WFMT. She has recently participated in summer festivals in Ceret, France, and Sun Valley, Idaho, has performed on the Chopin Festival in Washington, DC, and participated in the Chamber Music series from the US Holocaust Memorial Museum in Washington, DC. She recently gave a duo recital with violinist Judith Aller at the Los Angeles County Museum of Art which was broadcast live on radio.
Carol Honigberg has recorded the Barber Piano Concerto and Piano Sonata for Musical Heritage Society, the Rhapsody in Blue in the solo piano version for Pavane Records in Belgium, the Beethoven Sonatas and Variations for cello and piano, and Chopin's music for cello and piano with cellist Steven Honigberg on the Albany label. She also performs on the series "Darkness & Light," music from the US Holocaust Memorial Museum. She recently recorded for Albany Records a selection of chamber music by Donald Draganski for winds and piano, performed by the Pilgrim Chamber Players, of which she is Artistic Director.
She is a former faculty member of Roosevelt University in Chicago and presently teaches at the Music Institute of Chicago, Lake Forest Campus. She received her Masters of Music degree from Northwestern University. Her teachers have included Rudolph Ganz and Gui Mombeaerts. She also studied with Marguerite Long in France.
Carol Honigberg received the 2009 City of Highland Park Mayor's Award for the Arts for her role as Artistic Director of the Pilgrim Chamber Players.