Fall Fantasy
Sunday, November 13, 2016 at 3pm
Program
| | |
| --- | --- |
| Mozart | Quartet K. 285 for Flute and Strings |
| Villa-Lobos | Jet Whistle for Flute and Cello |
| Jean Cras | Quintet for Harp, Flute, and String Trio |
| Faure | Piano Quartet No. 1 in C Minor |
Concert information
Our opening program is filled with exciting musicians and inspiring music, as we begin our 20th Anniversary year celebration. Tim Munro, formerly of the Eighth Blackbird, will open the program with a beautiful Mozart Flute Quartet. He will also play the amazing duo with cello, Jet Whistle by the Brazilian composer Villa-Lobos. Two French works round out the program: a dazzling Quintet from 1928 for flute, harp and string trio by the little known French composer Jean Cras, and Faure's brilliant Piano Quartet in C minor.
Concert sponsored in part by the Northern Trust Bank.
Tickets
Adult - $20
Senior - $16
Student - $8
Performers
Desirée Ruhstrat, violin | David Cunliffe, cello
Aurelien Pederzoli, viola | Tim Munro, flute
María Luisa Rayan, harp | Carol Honigberg, piano
Desirée Ruhstrat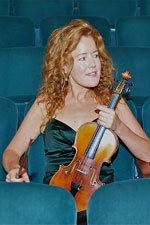 The violin artistry of Desirée Ruhstrat has captivated audiences throughout Europe and the Americas. The Berlin Taggespiegel wrote, "...she played with such an intensive fire and sleepwalking assuredness that she was stormily celebrated by the audience." A seasoned performer, Ms. Ruhstrat made her professional debut at the age of twelve with Lukas Foss and the Milwaukee Symphony Orchestra and at age 16, Ms. Ruhstrat was invited by Sir George Solti to perform Tchaikovsky's Violin Concerto in Chicago's Orchestra Hall.
Ms. Ruhstrat has appeared as a soloist with orchestras throughout the world, including the Berlin Radio Symphony, Radio Suisse Romande, Gottingen Symphony, Philharmonia Da Camera, Orchestra Symphonica Auguescalientes, Colorado Symphony, Oregon Symphony, Concerto Soloists Of Philadelphia, Utah Symphony, Chicago Civic Orchestra, Debut Orchestra of Los Angeles, and National Repertory Orchestra. She has worked with such renowned conductors as Eric Kunzel, Max Rudolph, William Smith, Rico Saccani, Brian Priestman, Mats Liljefors among others. Ms. Ruhstrat has won numerous awards including first prize at the National Young Musicians Debut Competition in Los Angeles, where she was also lauded a special award for a young performer with extraordinary talent. She became the youngest prizewinner at Switzerland's Tibor Varga International Competition and also won the award for best interpretation of the commissioned contemporary composition. She went on to earn top prizes at the Carl Flesch, Julius Stulberg, and the Mozart Festival Violin Competitions.
Ms. Ruhstrat's distinguished career as a chamber musician includes performances throughout the US as a member of the Lincoln Trio, including Carnegie Weil Hall, Ravinia Festival, Indianapolis Symphony Beethoven Series, Poisson Rouge and Music IN the Loft. She has also appeared as guest artist of the Chamber Music Series of the Philadelphia Orchestra, Colorado Symphony, Apollo Chamber Ensemble, the Colorado Chambers Players, Pacifica Quartet, the University of Oklahoma, Wisconsin, Tennessee, and Northwestern University Midwinter Series with Jorge Federico Osorio and Ani Kavafian, as well as collaborations with Shmuel Ashkenasi, Ilya Kaler and Roberto Diaz. Festival appearances include the Aspen Music Festival, Peninsula Music Festival, Laurel Festival of the Arts, the Breckenridge Music Festival and the Green Lake, University Of Wisconsin, Utah Music Festival, and ARIA International Summer Academy, where she has also served as faculty.
A champion of new music Ms. Ruhstrat has worked with some of the worlds leading composers, George Crumb, Jennifer Higdon, Shulamit Ran, Augusta Read Thomas, Chen Yi, Zhou Long and most recently had a work written for her by Laura Elise Schwendinger "Violinists In My Life."
Ms. Ruhstrat is a graduate of the Curtis Institute of Music. Her teachers have included Aaron Rosand, Joseph Gingold, Harold Wippler and Dorothy Delay. Her discography includes the Stamitz Duo for Violin and Viola for Centaur Records ,the Ravel Duo for Violin and Cello for Albany Records, and multiple recordings with the Lincoln Trio on the Cedille and most recently a 2013 NAXOS release Annelies, based on the Diary of Anne Frank.
A passionate teacher, Ms. Ruhstrat's students are prizewinners of national and international competitions and members of professional orchestras worldwide. Ms. Ruhstrat currently is adjunct Faculty at the Jacobs School of Music at Indiana University Bloomington.
David Cunliffe, cello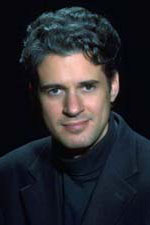 Cellist David Cunliffe began studying at the age of nine in his native England. Three years later he was chosen to receive a scholarship to the Royal College of Music in London. In 1984 Mr. Cunliffe went on to study at the Royal Northern College of Music where he founded the Argyll String Quartet and was the recipient of the Terrance Weill and Leonard Hirsch Quartet prizes and the Lady Barbirolli Chamber Music Award.
His teachers included Margaret Moncreiff, Moray Welsh, William Pleeth, Christopher Bunting and Ralph Kirshbaum. He completed his studies at the International Yehudi Menuhin Music Academy in Switzerland where he studied with Radu Aldulescu and toured throughout Europe with Yehudi Menuhin and the Camerata Lysy.
In 1995 he was asked to join the Balanescu Quartet, touring extensively to Australia, Europe and the United States appearing frequently on radio and TV, including featured performances on NPR and the BBC. He has served as Principal cello with the RNCM Chamber and Symphony Orchestras and for performances with BBC Philharmonic, BBC Scottish and Royal Scottish Symphony Orchestras. Mr. Cunliffe can be heard on various recording labels including Enja, DMD, Albany and Cedille.
A founding member of the Virtuosi Chicago Chamber Orchestra, Mr. Cunliffe is currently on the faculty of the Music Institute of Chicago and is a member of the Lincoln Trio, ensemble-in-residence at the Merit School of Music in Chicago.
Aurelien Pederzoli, viola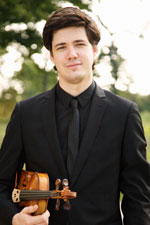 French-born violinist Aurelien Fort Pederzoli has quickly risen to be known as one of Chicago's most creative and sought-after collaborators.
Aurelien is a graduate of the Paris Conservatory, where he studied with world-renowned teacher Jean Lenert. He then attended the Bern Hochschule, Switzerland, where he was in the master class of Prof. Monika Urbaniak and received guidance from Prof. Igor Ozim.
In 2002, he was invited to study in Chicago with Shmuel Ashkenasi. He received a Master's Degree in Violin Performance studying under Ilya Kaler as well as Marc Zinger.
In 2008, Aurelien founded the Anaphora Ensemble, a chamber music ensemble, which appeared frequently on national radio and performed in eclectic places, from the green mill to symphony hall. From 2008 to 2012, Mr. Pederzoli was first violinist of the Corky Siegel Chamber Blues band and toured nationally and internationally with them.
From 2009 until 2014, Aurelien was one of the violinists, and founding member, of the Spektral Quartet, in residence at the University of Chicago.
Tim Munro, flute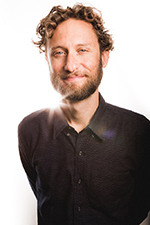 Bio coming soon.
María Luisa Rayan, harp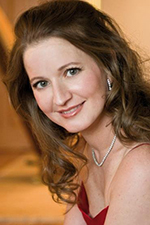 Internationally renowned harpist, María Luisa Rayan has performed to critical acclaim in the USA, Europe, Latin America, China, Japan, Korea and Australia. Described by the New York Concert Review as "Clearly an extremely talented, accomplished, experienced performer who can keep an audience listening with rapt attention", Ms. Rayan has been performing all over the globe for the past twenty years, bringing to audiences a sense of musicianship and poetry in her playing.
Since making her first international appearance at the age of eleven in a concert organized by UNICEF at the World Economic Forum in Davos, Switzerland, Ms. Rayan has come to be recognized as one of today's highly sought-after harpists as a recitalist, chamber musician, soloist with orchestra, teacher and arranger of music for the harp.
Ms. Rayan has performed in major venues around the world, including Carnegie Hall, Libby Gardner Hall, Geary Theatre, Chicago Cultural Center, Lyon & Healy Hall, Musikgebouw in Amsterdam, National Concert Hall in Dublin, Royal Academy of Music in London, Royal Welsh College of Music, Real Academia de Bellas Artes in Madrid, University of Adelaide, National Centre for the Performing Arts in Beijing, Seoul Arts Center, Teatro Colón in Buenos Aires and Teatro Mayor Julio Mario Santo Domingo in Bogotá.
Highlights of her chamber music performances include the University of Chicago Presents, Cartagena Music Festival, Chicago Chamber Musicians, Tanglewood Music Center and Brevard Music Festival. Her performances with orchestra include the National Symphony Orchestra of Buenos Aires, Entre Ríos Symphony, Córdoba Symphony, Puerto Rico Symphony, Houston Symphony and other orchestras in the USA.
A consistent prizewinner at competitions internationally, Ms. Rayan was awarded the Silver Medal at the USA International Harp Competition in both 1998 and 2001.
Besides her busy concert schedule, Ms. Rayan has a strong passion for teaching. She has taught masterclasses at the Curtis Institute, Shanghai Conservatory of Music, National University in Bogotá, the Royal Academy of Music, and the Cartagena Music Festival. She is currently on the faculty at Indiana University and is co-director of the Saratoga Harp Colony.
Having performed most of the harp literature, Ms. Rayan's keen interest in expanding the repertoire for the harp has taken her to research and transcribe music. Her publications include arrangements for solo harp of Cuatro Estaciones Porteñas, Serie del Angel and Libertango by Astor Piazzolla, Partitas BWV 825-827 by J.S. Bach, Sonata in F K332 and Fantasy K397 by W.A. Mozart and Prelude from Bachianas Brasileiras No.4 by Heitor Villa-Lobos.
Ms. Rayan has recorded two CDs, "Latin Fire" and "From Bach to Piazzolla." For more information on María Luisa Rayan, visit her website at www.rayanforero.com, or find her on facebook at www.facebook.com/rayanforero.
Carol Honigberg, piano
artistic director of the Pilgrim Chamber Players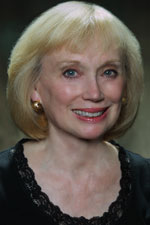 Carol Honigberg has appeared as soloist and as chamber musician throughout the United States and Europe. Recent performances with orchestra include Haydn's Concerto for Violin, Piano, and Strings, Beethoven's Triple Concerto, the Shostakovich Piano Concerto No. 2, and the Two-Piano Concerto by Poulenc. She gave her New York recital debut in Alice Tully Hall of Lincoln Center. She has appeared as soloist with the Grant Park Orchestra in Chicago and appears regularly on programs live on radio WFMT. She has recently participated in summer festivals in Ceret, France, and Sun Valley, Idaho, has performed on the Chopin Festival in Washington, DC, and participated in the Chamber Music series from the US Holocaust Memorial Museum in Washington, DC. She recently gave a duo recital with violinist Judith Aller at the Los Angeles County Museum of Art which was broadcast live on radio.
Carol Honigberg has recorded the Barber Piano Concerto and Piano Sonata for Musical Heritage Society, the Rhapsody in Blue in the solo piano version for Pavane Records in Belgium, the Beethoven Sonatas and Variations for cello and piano, and Chopin's music for cello and piano with cellist Steven Honigberg on the Albany label. She also performs on the series "Darkness & Light," music from the US Holocaust Memorial Museum. She recently recorded for Albany Records a selection of chamber music by Donald Draganski for winds and piano, performed by the Pilgrim Chamber Players, of which she is Artistic Director.
She is a former faculty member of Roosevelt University in Chicago and presently teaches at the Music Institute of Chicago, Lake Forest Campus. She received her Masters of Music degree from Northwestern University. Her teachers have included Rudolph Ganz and Gui Mombeaerts. She also studied with Marguerite Long in France.
Carol Honigberg received the 2009 City of Highland Park Mayor's Award for the Arts for her role as Artistic Director of the Pilgrim Chamber Players.