Sephardic Journey
October 29, 2017 at 3pm
Program
| | |
| --- | --- |
| Alan Thomas | Trio Sefardi for Guitar, Flute, and Cello |
| Joseph Williams | Isabel for Guitar and Flute |
| Carlos Rivera | Plegaria y Canto al Bodre de la Mar for Duo and Violin |
| Astor Piazolla | La Calle 92 for String Trio |
| Joaquin Turina | Piano Quartet, Op. 67 |
Concert information
Sephardic Journey is a fascinating story by the Cavatina Duo as they uncovered their individual Jewish roots in Spain and in Bosnia resulting centuries ago from the Spanish Jewish expulsion in 1492. They recently commissioned contemporary composers to write their own works based on original Sephardic melodies. Violin and cello are incorporated into 2 of these 3 works performed today. The 2nd half of the concert continues with delightful music by Piazzolla and Turina's Quartet for piano and strings.
Concert sponsored in part by the Northern Trust.
Tickets
Adult - $20
Senior - $16
Student - $8
Performers
The Cavatina Duo:
Eugenia Moliner, flute | Denis Azabagic, guitar

Desirée Ruhstrat, violin | David Cunliffe, cello
Aurelien Pederzoli, viola | Carol Honigberg, piano
Eugenia Moliner, flute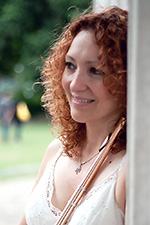 Eugenia Moliner has been acclaimed by Flute (The British Flute Society Magazine) as "An artist of the highest caliber...Ms. Moliner is an excellent, exciting and imaginative flute player, totally in control of the sometimes ferocious technical demands of the scores".
Her recordings as well as her live performances have received rave reviews from the American Record guide; the British Flute Society Magazine, FluteTalk, Fanfare, Chicago Sun Times, Fort Worth, Star Telegram, The New Yorker, and other specialized magazines.
As a member of the "Cavatina Duo" with guitarist Denis Azabagic, she has performed in concert halls and festivals in more than 30 Countries around the world, such as the Ravinia Festival, The Harris Theater, (Chicago), DaCamera Society,(Los Angeles), at the Buntrock Hall at Symphony Center in Chicago, Mainly Mozart San Diego, National Performing Arts Center in Beijing (China), the Opening Gala at the 2008 National Flute Association Conference USA, the Aix-en-Provence Summer Festival (France), The Doelen (Netherlands), ICCR ( India), The Link (Netherlands), and in three occasions at the National Concert Hall in Taipei (Taiwan), Daejeon Philharmonic Hall (North Korea) ...among many others. She has appeared with the Chicago Sinfonieta, the Camerata Serbica, Sarajevo Philharmonic, Monterrey symphony and Traverse Symphony.
Ms. Moliner recordings have been featured as Highlight of the month in radio stations around the US. She has been featured Live at the WFMT station in Chicago several times. Her CD's and live performances have also been broadcasted in NPR and Radio Nacional de España.
Ms. Moliner has collaborated with numerous ensembles and orchestras, including The Chicago Symphony and Rotterdam Philharmonic principal players, The Chicago Chamber Musicians, Civitas Ensemble, The Rotterdam Baroque Ensemble, The National Philharmonic of the Netherlands and The Avalon String Quartet.
With the Cavatina Duo she has been the subject of interviews in the international magazines such as: Chamber Music America, "Flute" the British society Magazine (UK), Classical Guitar (UK), Guitarra Magazine (web), TodoFlauta,(Spain), Soundboard(USA) and FluteTalk (USA) . They are the first guitar and flute duo to be featured on the cover of Classical Guitar Magazine (UK) and FluteTalk Magazine (USA).
Composers from around the world have written and dedicated new works to the Cavatina duo; Sérgio Assad and Clarice Assad (Brazil); Carlos Rivera, Michael Karmon; Alan Thomas (UK-USA), David Leisner (USA), Joseph V Williams II (US). As member of the Cavatina Duo she has premiered the Concerto for Flute, Guitar and Orchestra (dedicated to them) in Belgrade with the Camerata Serbica, written by American composer Alan Thomas.
Ms. Moliner discography includes eight CDs with international record labels such as Cedille,Bridge (USA), Orobroy and Opera Tres (Spain)
Mrs. Moliner is an Artist- Faculty at the Chicago College of Performing Arts at Roosevelt University in Chicago. She has given master classes in Spain, Taiwan, Mexico, Bosnia, Serbia, India, Holland and Portugal, as well as throughout the United States. Highlights of the upcoming season include concerts tours in the US with the Cavatina Duo, performances with the Avalon string quartet, Fandango Quartet, as well as the Aspen trio.
Eugenia Moliner plays with a Brannen- Cooper 14K flute with a 18K Lafin head joint as well as a Muramatsu alto flute.
Denis Azabagic, guitar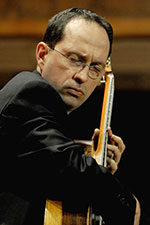 Denis Azabagic (Bosnia and Herzegovina), is one of the most compelling classical guitarists on the international concert circuit today. He performs concerts around the globe, maintaining a balance between his solo recitals, chamber music with the Cavatina Duo, and engagements as soloist with orchestras.
Azabagic's flawless performances have set a standard for the new generation of guitar players. He has won twenty-four prizes in international competitions and Mel Bay has published a book based on his experience and insights on the subject of competitions.
Azabagic has recorded 12 CDs for international labels such as Naxos, Cedille, Opera Tres, Bridge records and Orobroy, as well as two DVDs for the Mel Bay Company. His recordings and live performances are highly praised by music critics, for his elegant approach to music and his unique way of communicating and reaching the audiences' hearts.
As a guest instrumentalist and soloist Azabagic has appeared with the Chicago Symphony Orchestra, Chicago Sinfonietta, Tallahassee Symphony Orchestra, Illinois Symphony Orchestra, Sacramento Chamber Orchestra, Madrid Symphony, Traverse Symphony, Monterrey Symphony, L'Orchestre Royal de Chambre de Mons, among many others. He has also collaborated with the Casals Quartet, Civitas Ensemble and Music Now members in Chicago.
Azabagic has performed at such venues as Chicago's Symphony Center; the Royal Concertgebouw in Amsterdam; Radio France in Paris; Aix-en-Provence Festival; France; El Palau de la Musica in Valencia, Spain; Savannah on Stage; Omni Foundation (San Francisco); Ravinia Festival; National Chang Kai Shek Cultural Center, Taiwan; and the the National Center for the Performing Arts in Beijing, China. Azabagic's performances have been broadcast live on NPR and WFMT radio, and on television in Asia, Europe and the United States.
His repertoire includes solo and orchestral music from the Baroque era to the present. As half of the active Cavatina Duo (with Eugenia Moliner, flute), he has performed a vast repertoire including many works written expressly for the duo.
Azabagic's love for performing extends to sharing with others his knowledge of music making. He frequently offers master classes while on tour, teaches at the University of Illinois and is the head of the guitar department at Roosevelt University in Chicago.
Highlights of his upcoming season include concerts tours in the US, Canada, Spain, Denmark, etc…With the Cavatina Duo he will release a new CD entitled the Sephardic Journey, featuring new commissioned music based on old Sephardic melodies.
Denis Azabagic uses D'Addario strings and plays with Connor and Humphrey guitars.
Desirée Ruhstrat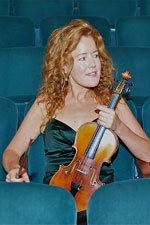 The violin artistry of Desirée Ruhstrat has captivated audiences throughout Europe and the Americas. The Berlin Taggespiegel wrote, "...she played with such an intensive fire and sleepwalking assuredness that she was stormily celebrated by the audience." A seasoned performer, Ms. Ruhstrat made her professional debut at the age of twelve with Lukas Foss and the Milwaukee Symphony Orchestra and at age 16, Ms. Ruhstrat was invited by Sir George Solti to perform Tchaikovsky's Violin Concerto in Chicago's Orchestra Hall.
Ms. Ruhstrat has appeared as a soloist with orchestras throughout the world, including the Berlin Radio Symphony, Radio Suisse Romande, Gottingen Symphony, Philharmonia Da Camera, Orchestra Symphonica Auguescalientes, Colorado Symphony, Oregon Symphony, Concerto Soloists Of Philadelphia, Utah Symphony, Chicago Civic Orchestra, Debut Orchestra of Los Angeles, and National Repertory Orchestra. She has worked with such renowned conductors as Eric Kunzel, Max Rudolph, William Smith, Rico Saccani, Brian Priestman, Mats Liljefors among others. Ms. Ruhstrat has won numerous awards including first prize at the National Young Musicians Debut Competition in Los Angeles, where she was also lauded a special award for a young performer with extraordinary talent. She became the youngest prizewinner at Switzerland's Tibor Varga International Competition and also won the award for best interpretation of the commissioned contemporary composition. She went on to earn top prizes at the Carl Flesch, Julius Stulberg, and the Mozart Festival Violin Competitions.
Ms. Ruhstrat's distinguished career as a chamber musician includes performances throughout the US as a member of the Lincoln Trio, including Carnegie Weil Hall, Ravinia Festival, Indianapolis Symphony Beethoven Series, Poisson Rouge and Music IN the Loft. She has also appeared as guest artist of the Chamber Music Series of the Philadelphia Orchestra, Colorado Symphony, Apollo Chamber Ensemble, the Colorado Chambers Players, Pacifica Quartet, the University of Oklahoma, Wisconsin, Tennessee, and Northwestern University Midwinter Series with Jorge Federico Osorio and Ani Kavafian, as well as collaborations with Shmuel Ashkenasi, Ilya Kaler and Roberto Diaz. Festival appearances include the Aspen Music Festival, Peninsula Music Festival, Laurel Festival of the Arts, the Breckenridge Music Festival and the Green Lake, University Of Wisconsin, Utah Music Festival, and ARIA International Summer Academy, where she has also served as faculty.
A champion of new music Ms. Ruhstrat has worked with some of the worlds leading composers, George Crumb, Jennifer Higdon, Shulamit Ran, Augusta Read Thomas, Chen Yi, Zhou Long and most recently had a work written for her by Laura Elise Schwendinger "Violinists In My Life."
Ms. Ruhstrat is a graduate of the Curtis Institute of Music. Her teachers have included Aaron Rosand, Joseph Gingold, Harold Wippler and Dorothy Delay. Her discography includes the Stamitz Duo for Violin and Viola for Centaur Records ,the Ravel Duo for Violin and Cello for Albany Records, and multiple recordings with the Lincoln Trio on the Cedille and most recently a 2013 NAXOS release Annelies, based on the Diary of Anne Frank.
A passionate teacher, Ms. Ruhstrat's students are prizewinners of national and international competitions and members of professional orchestras worldwide. Ms. Ruhstrat currently is adjunct Faculty at the Jacobs School of Music at Indiana University Bloomington.
David Cunliffe, cello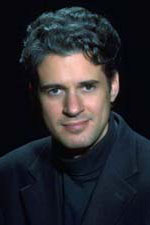 Cellist David Cunliffe began studying at the age of nine in his native England. Three years later he was chosen to receive a scholarship to the Royal College of Music in London. In 1984 Mr. Cunliffe went on to study at the Royal Northern College of Music where he founded the Argyll String Quartet and was the recipient of the Terrance Weill and Leonard Hirsch Quartet prizes and the Lady Barbirolli Chamber Music Award.
His teachers included Margaret Moncreiff, Moray Welsh, William Pleeth, Christopher Bunting and Ralph Kirshbaum. He completed his studies at the International Yehudi Menuhin Music Academy in Switzerland where he studied with Radu Aldulescu and toured throughout Europe with Yehudi Menuhin and the Camerata Lysy.
In 1995 he was asked to join the Balanescu Quartet, touring extensively to Australia, Europe and the United States appearing frequently on radio and TV, including featured performances on NPR and the BBC. He has served as Principal cello with the RNCM Chamber and Symphony Orchestras and for performances with BBC Philharmonic, BBC Scottish and Royal Scottish Symphony Orchestras. Mr. Cunliffe can be heard on various recording labels including Enja, DMD, Albany and Cedille.
A founding member of the Virtuosi Chicago Chamber Orchestra, Mr. Cunliffe is currently on the faculty of the Music Institute of Chicago and is a member of the Lincoln Trio, ensemble-in-residence at the Merit School of Music in Chicago.
Aurelien Pederzoli, viola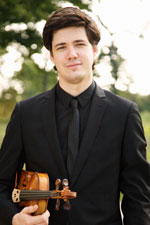 French-born violinist Aurelien Fort Pederzoli has quickly risen to be known as one of Chicago's most creative and sought-after collaborators.
Aurelien is a graduate of the Paris Conservatory, where he studied with world-renowned teacher Jean Lenert. He then attended the Bern Hochschule, Switzerland, where he was in the master class of Prof. Monika Urbaniak and received guidance from Prof. Igor Ozim.
In 2002, he was invited to study in Chicago with Shmuel Ashkenasi. He received a Master's Degree in Violin Performance studying under Ilya Kaler as well as Marc Zinger.
In 2008, Aurelien founded the Anaphora Ensemble, a chamber music ensemble, which appeared frequently on national radio and performed in eclectic places, from the green mill to symphony hall. From 2008 to 2012, Mr. Pederzoli was first violinist of the Corky Siegel Chamber Blues band and toured nationally and internationally with them.
From 2009 until 2014, Aurelien was one of the violinists, and founding member, of the Spektral Quartet, in residence at the University of Chicago.
Carol Honigberg, piano
artistic director of the Pilgrim Chamber Players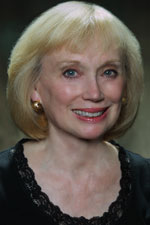 Carol Honigberg has appeared as soloist and as chamber musician throughout the United States and Europe. Recent performances with orchestra include Haydn's Concerto for Violin, Piano, and Strings, Beethoven's Triple Concerto, the Shostakovich Piano Concerto No. 2, and the Two-Piano Concerto by Poulenc. She gave her New York recital debut in Alice Tully Hall of Lincoln Center. She has appeared as soloist with the Grant Park Orchestra in Chicago and appears regularly on programs live on radio WFMT. She has recently participated in summer festivals in Ceret, France, and Sun Valley, Idaho, has performed on the Chopin Festival in Washington, DC, and participated in the Chamber Music series from the US Holocaust Memorial Museum in Washington, DC. She recently gave a duo recital with violinist Judith Aller at the Los Angeles County Museum of Art which was broadcast live on radio.
Carol Honigberg has recorded the Barber Piano Concerto and Piano Sonata for Musical Heritage Society, the Rhapsody in Blue in the solo piano version for Pavane Records in Belgium, the Beethoven Sonatas and Variations for cello and piano, and Chopin's music for cello and piano with cellist Steven Honigberg on the Albany label. She also performs on the series "Darkness & Light," music from the US Holocaust Memorial Museum. She recently recorded for Albany Records a selection of chamber music by Donald Draganski for winds and piano, performed by the Pilgrim Chamber Players, of which she is Artistic Director.
She is a former faculty member of Roosevelt University in Chicago and presently teaches at the Music Institute of Chicago, Lake Forest Campus. She received her Masters of Music degree from Northwestern University. Her teachers have included Rudolph Ganz and Gui Mombeaerts. She also studied with Marguerite Long in France.
Carol Honigberg received the 2009 City of Highland Park Mayor's Award for the Arts for her role as Artistic Director of the Pilgrim Chamber Players.